A very special MGB GT for sale – MGB GT Sebring Targa Florio Replica 1967
If you follow our Instagram or Facebook accounts you should know by now that I've a very soft spot for the MGB GT.
I owned a 4 cylinders a few years ago and I decided to sell it only to replace it with a factory an MGB GT factory V8 wish I'm willing to keep and cherish as long as I can.
The MGB GT for sale presented in this page is something very different from both of them and it also been an inspiration for the modification I started doing to my V8.
I saw it the first time about a year and a half ago on the cover of the N. 1 of a new French Magazine, Vintage Racers and it was (of course) the main reason I bought the magazine. Big wheel arches, big spoilers, big engine, big headlights: everything is size XXL here.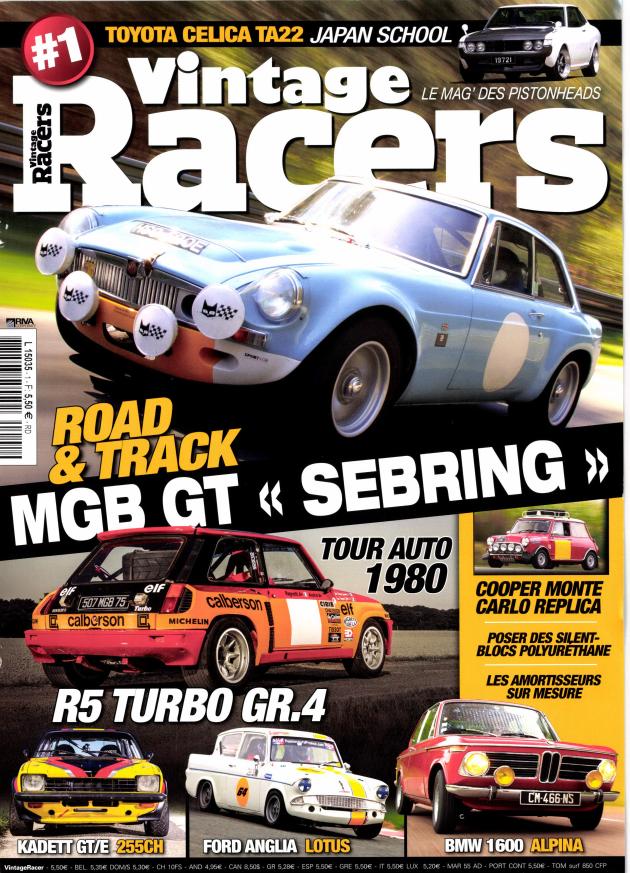 And then a few days ago I found the MGB GT for sale on the website of my friend Marion Thouroude, laptitepilote.com. Price is high at 40.000 euros, however they are well justified by the quality of the work. The car was fully restored by an English man who sold it to the current French owner at Goodwood in 2013. It has been built based on the specs of the MGB GT that raced in the 1967 Targa Florio with Paddy Hopkirk and Timo Mäkinen. In 2014 the engine was fully rebuilt at Le Mans in the Atelier of Yves COURAGE and it's now visible for sale in their atelier Courage Classic.
The attention to the details is impressive, everything has been carefully modified and updated. The drive train had to be deeply modified to fit the very large wheels and their spacers that are needed to fill up those bigs side wings. To slow down the 155 hp produced by the 2L engine the brakes have been taken from an Austin Healey with the upgrade of better brake pads and ventilated discs. Also inside everything has been carefully placed : aluminium central console, bucket seats and a tons of gauges and accessories.
Technical Specifications
ENGINE and TRANSMISSION :
MG 4 Cylinders Type B upgraded at 2004 cm developing 155 cv
Weber 45 Carb with K&N Filter
Specifically made Inox exhaust
5 speeds Type 9 Ford
Hi-performance clutch
BODYWORK / CHASSIS
Kit Sebring front and rear
Extra Petrol Tanks with high filler cap
Headlights covers
MGC Bonnet with leather strap
Marchal extra headlights and Lucas at the rear
Triangulation renforcée pour renforcer les voies larges – Elargisseurs de voies
Minilite wheels with central locking Rudge
Austin Healey brakes with ventilated discs
INTERIOR
Pidgard Racing seats
Willans roll-cage
Sparco pedals
Moto-Lita Steering wheel
Tripmaster